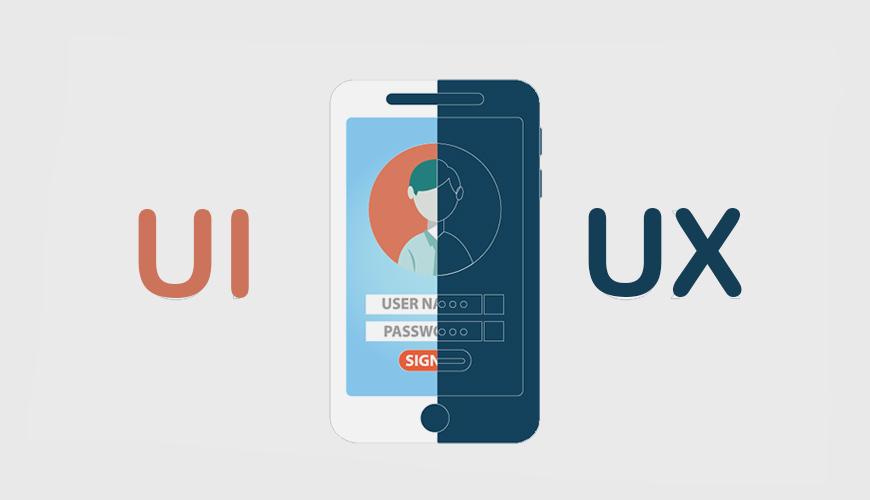 There are millions of mobile apps available on the app and play stores nowadays. Some have achieved acclaim, while others are struggling in a very competitive sector. The thing that all successful apps have in common is that they all have an excellent design and feel. All of these great apps present and demonstrate an excellent user look and feel that entices diverse consumers, thus it's necessary to understand the Importance of UI & UX design.
Many consumers want the app to have a decent look and feel so that they can enjoy using it. An app that is both engaging and visually appealing is usually the result of a mix of providing an effective user interface and providing a visually appealing interface (UI). It also offers an excellent user experience (UX).
A good user interface instantly draws attention to your software, whereas a superb user experience leaves a lasting impression on your user's mind. When designing an app, it is vital that you get both the UI & UX design right, if you want your app to be successful.
This blog will provide you with a good idea of what is UI/UX design. In addition, it will highlight the different reasons why you require an excellent UI & UX design. What role it can play in the success of your app. We'll go through what distinguishes an outstanding and great UI UX design in more detail. So, let's begin with the significance of UI and UX.
User Interface (UI)
The element UI stands for User Interface. This element represents the appearance of an application when a user interacts with it. The user interface ensures that the user can interact with the application effortlessly. App design, graphics, and presentation are examples of user interface aspects. A good user interface should be appealing to a wide range of people.
User Experience (UX)
The User Experience is made up of human emotions and thoughts that the user experiences when using the app. It consists of perceptions, sentiments, emotions, and numerous preferences that occur during and after the use of a specific application. When the app's simplicity, accessibility, and usability improve the user experience, you have gained your user's attention. To produce a successful and appealing UX design, you need to conduct extensive research on the needs and requirements of your target audience.
Why UI & UX design is essential for your app?
Creating an effective UI/UX design should always be a top priority for app development. This necessitates extensive research and careful planning in order to incorporate and understand the demands and expectations of your target audience. Your users will eventually be your target audience. You must concentrate on the problem that your app attempts to solve for your target audience. Whatever your requirements are, you should create a design that functions flawlessly and communicates with your users in the most effective way possible.
Here are some effective reasons why you should invest in a strong design for your app development efforts:
Improves client satisfaction, which improves ROI
An excellent design may provide your customers with interesting content while also making browsing simple. This provides your clients with a high level of customer satisfaction for your app. It satisfies customers with the services provided by your app. As a result, delighted customers will always suggest your app to their friends and family. This gives you word-of-mouth marketing for your app. This may result in an increase in your consumer base. This assists you in gaining devoted customers for your app, who in turn become loyal to your brand. They have a chance of becoming repeat customers, which raises the Return On Investment (ROI) for your company.
Helps you connect & understand your audience
Before you can develop the perfect UI/UX, you must first understand your client's needs and requirements. Your target audience should be given adequate attention to the design that you make. Your app should appeal to the target demographic for whom you are developing it. A flawless UI/UX allows you to categorise your audience, which is vital in knowing your audience's overall needs. Your app's design should prioritise what your audience wants. Understanding your audience's demands and expectations will make it easier for you to turn customers into loyal clients for your app. As a result, your brand's actual sales increase.
Builds your Brand from the scratch
Investing in an efficient UI design that is not simply decent but extraordinary helps you attract and retain customers. You end up with satisfied customers. People want to work with brands that make them happy and meet their demands. They will give you vital input that you can use to further enhance your product. The product could be the app you're working on for your target audience. You will be able to invest in further improving and refining your application as a result of this. This will boost the legitimacy of your application even further. Your client or target audience develops a positive relationship with your brand.
How does UI & UX design contribute to the success of your mobile app?
Users of mobile applications choose applications that are engaging and entertaining, as well as simple to use. Most successful applications, such as WhatsApp and Instagram, have worked relentlessly to provide their users with seamless and pleasurable experiences, as well as an easy-to-navigate and visually appealing User Interface. Creating an app from the ground up with a beautiful UI/UX will be the starting point for your development efforts. This is the first step toward the success of your app. Most consumers choose to use an app that is easy to use and has outstanding functionality over one that is less appealing.
An excellent user interface gives users a realistic and pleasant experience when using your software. It enables people to maintain and absorb an uninterrupted flow of information. More and more users will be enticed to use your software and become interested in it. This effectively increases conversion rates for your app. As a result, it is vital that you hire an experienced and competent UI/UX designer who can ensure that your mobile app has a good and attractive user interface. It will provide your target audience with an exceptional user experience.
FindingPi is a UI & UX Designing Company. We follow these fundamentals to help you in developing a strong UI & UX design for your target audience. Following these concepts is essential to increase the number of users for your mobile application.